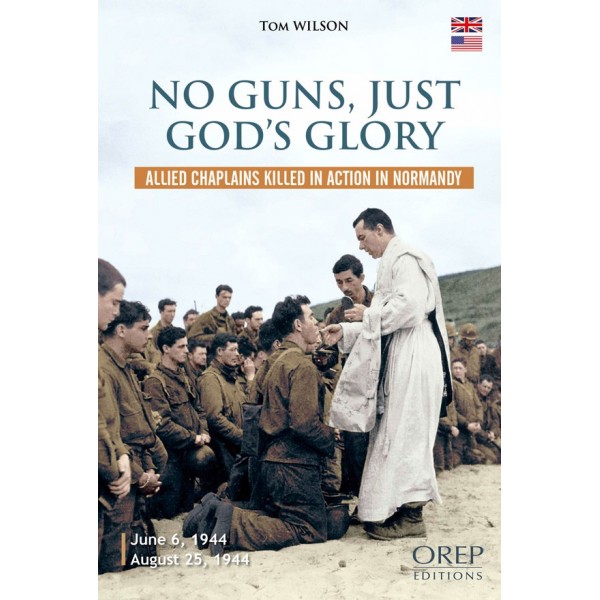  
No Guns, Just God's Glory
Allied chaplains killed in action in Normandy
The Allied Chaplains of the American, British and Canadian armies in the battle for Normandy are often overlooked due to their small numbers in relation to the thousands of other men who made up the Allied armies in the battle. However, they were highly respected and appreciated by the men in the various units they served, as well as being incredibly brave men who were forbidden by the rules of war from carrying any sort of weapon into battle, beyond their holy books and their faith. Allied Chaplains suffered the second highest loss rate of any group in World War II (second only to that of RAF Bomber Command) and were virtually irreplaceable due to the academic and religious training that took years to complete.
This book looks at the Allied Chaplains in the Battle of Normandy, including what is known about their lives before they joined the service, what is known about their deaths, which often have conflicting stories of their heroism, and where their final resting places are, either in the cemeteries in Normandy, or, for some of the American Chaplains, in cemeteries in the United States of America.
The Revd Dr Tom Wilson has had an interest in World War Two military history since he was 12 years old. Revd Wilson had a career in the retail business world before answering the call to ordained ministry. He was ordained in the Anglican Church in Canada and served as Rector of a parish in southwestern Ontario. In 2007, he had the chance to spend a year in France, on university exchange program that his wife, Dr Dawn Cornelio was coordinating. While there led some of the Canadian students on a visit to Normandy where they held a graveside memorial service for Canadian Chaplain Walter Brown. It was Padre Brown's murder that led Revd Wilson to explore all the Allied Chaplains killed in the Battle of Normandy. After serving in the Scottish Episcopal (Anglican) Church for 5 years, Revd Wilson now is the Anglican Chaplain of St Raphael in southern France where he ministers to a multi-national English-speaking congregation.
Langue

English

Type

Beau livre

Format

155 x 230 mm

Pages

120 pages

Propriété

Couverture souple
Dos carré collé